Interviewed by Brendan Narko and Han Mahle
Served in Vietnam from 1965-1966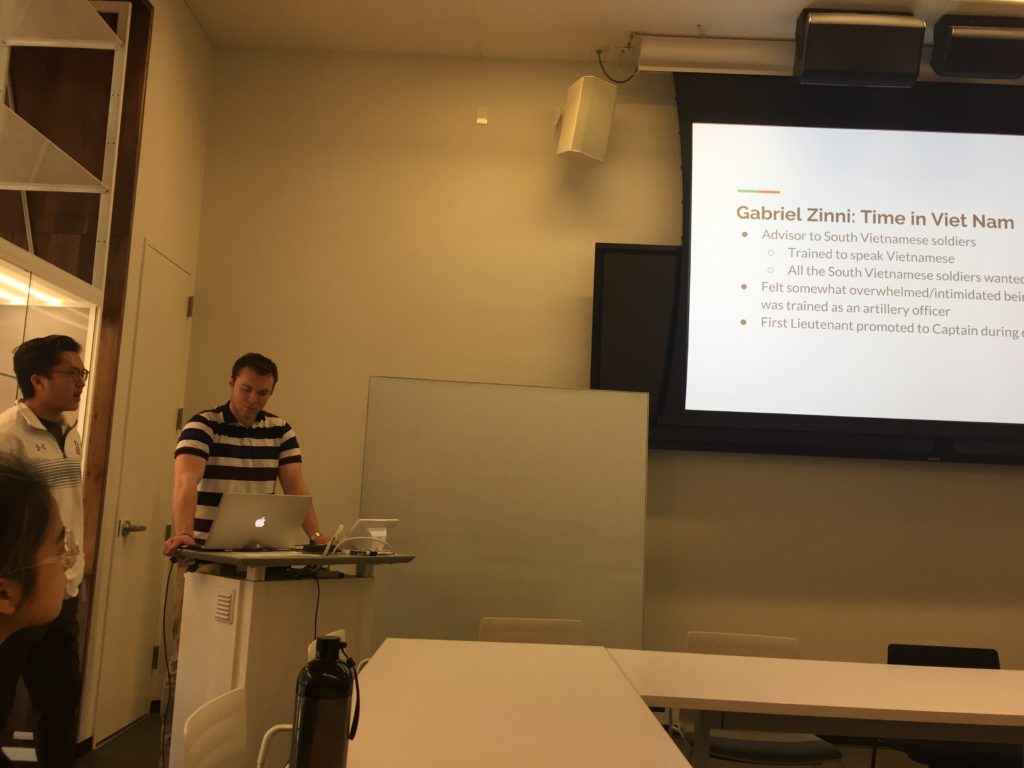 Gabriel Zinni was born in the Philadelphia area on June 22, 1941. His parents were both immigrants. He grew up in a family with a military family, as his father served in World War I, his older brother served in World War II, and several of his cousins served in both WWII and Korea. He was a member of ROTC at LaSalle College, where he was trained to be an artillery officer. However, when he was deployed to Viet Nam, he became an advisor to the South Vietnamese forces.
Reflections on the interview from Han Mahle:
Having the ability to still interview living veterans and individuals affected by the Viet Nam War is an immense privilege. Moreover, sitting down with Colonel Gabriel Zinni, hearing his stories and experiences, and recognizing the human cost and gravity of the conflict was invaluable and moving.
I was also struck by the wall of military memorabilia adorning Col. Zinni's office and seeing the physical legacy of his many decades of military service. More than anything, it was an immediate reminder of the pride Col. Zinni feels for his career in the Army and reflects his broader sentiments towards duty and service to country.
During the interview, I was reminded that Col. Zinni spent just one year in Viet Nam. One year that came to define the many decades of life after his deployment and called him back to Viet Nam almost five decades later. In this context, I think of the impact loss, hardship, and violence had on the many servicemembers who found a tumultuous, radically life-defining experience in Viet Nam and the civilians who lived out many years of the horrors of the war. Col. Zinni's generosity of spirit adds to the historical record of a conflict with a fraught and complicated legacy. It was refreshing and exciting to engage with and individual that lived the events and experiences discussed in class and in the readings.
Reflections on the interview from Brendan Narko:
One of the most significant conclusions I drew from the interview itself was the importance of compiling these stories that veterans have.  In the case of the Viet Nam War, every person who participated in the War, be it in an active combat role or not, they each have their own story to tell.  Reading academic texts can dehumanize a conflict by providing statistics and analyzing the conflict through a broad scope.  When interviewing these veterans, one begins to understand that each casualty in the War was a person who had friends and a story to tell.  Colonel Zinni told Han and I a moving tale where he was forced to identify the bodies of two of his deceased friends.  In textbooks, these two soldiers would just be two of the over 58,000 American casualties in the Viet Nam War, instead of two of Colonel Zinni's close friends.
Full research and reflection papers: